Things to Do in Wynwood
Posted by Juan Iarussi on Friday, September 23, 2022 at 8:12 PM
By Juan Iarussi / September 23, 2022
Comment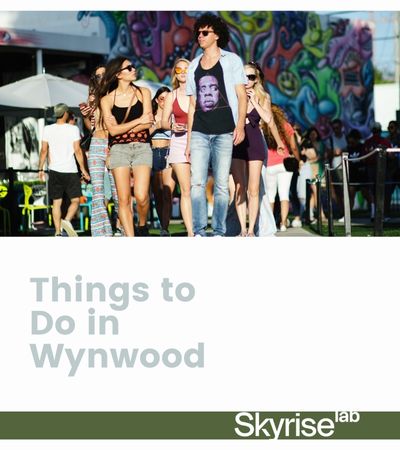 Wynwood is a Miami neighborhood located just north of downtown, just south of the Design District, and just inland from Edgewater. It is almost one giant art installation, home to amazing graffiti, culture, and design.
Whether you want to move to one of Wynwood's amazing new luxury condos or simply want to explore this hip neighborhood, we have put together a list of some of the best things to do in Wynwood.
Tour the Wynwood Walls
Wynwood Walls is an outdoor exhibit, honoring the culture of graffiti that makes the neighborhood so colorful. This setting becomes the venue for all kinds of festivals and special events in the neighborhood, surrounded by craft breweries, art galleries, and unique restaurants. Stop by for the perfect photo op or to do some window shopping nearby.
Visit the Museum of Graffiti
Wynwood's only museum is the Museum of Graffiti. The neighborhood is known for colorful and artistic displays of independent art, so much so that there is a museum dedicated to telling the history of the art form. Those who are not in the graffiti world often view it as simply a form of vandalism, but the museum seeks to show the complexities and culture of it. The museum "exhibits, educates, and celebrates the thousands of graffiti artists who have transformed walls in our public spaces into vibrant masterpieces"
Take a Tour on the Wynwood Art Walk
Schedule a tour of the Wynwood Art Walk, with a variety of choices available. Zip around on a golf cart tour, take your time on a private walking tour, or meet up with a group to explore together. You can even try your hand at graffiti, at the Wynwood Graffiti Experience every weekend.
Eat and Drink Your Way through Wynwood
Wynwood may be known for art scene, but it's food scene is just as good. Try Panther Coffee for an amazing espresso drink. The local chain has a Wynwood location that is conveniently located so you can grab a drink on your way to anywhere in the neighborhood.
Stop into 1-800 Lucky for lunch, an food hall with 7 vendors offering Asian specialties, including sushi, Thai food, Japanese ice cream, and bubble tea. If you show up later in the day, stay until after dark to watch, or participate in, karaoke.
Try a classic Cuban beer in a gorgeous garden at Cerveceria La Tropical. The gorgeous space is perfect for a date night, with craft beer and delicious Cuban food to pair with it.
Attend a Special Event at Mana Wynwood
There is always something dynamic and exciting taking place in the neighborhood. At Mana Wynwood, a 6 acre property that acts as both event space and convention center, you will find exhibitions, concerts, trade shows, fashion shows, and more. The space can be used for film and other art productions, supporting the vibrant community of artists that call Wynwood home. Even if you are not an artist, you will benefit from the work that is shared with the community at Mana Wynwood.
To learn more about finding your ideal home in Miami, contact us any time.