State of the Real Estate Market in South Florida
Posted by Juan Iarussi on Friday, November 18, 2022 at 9:30 AM
By Juan Iarussi / November 18, 2022
Comment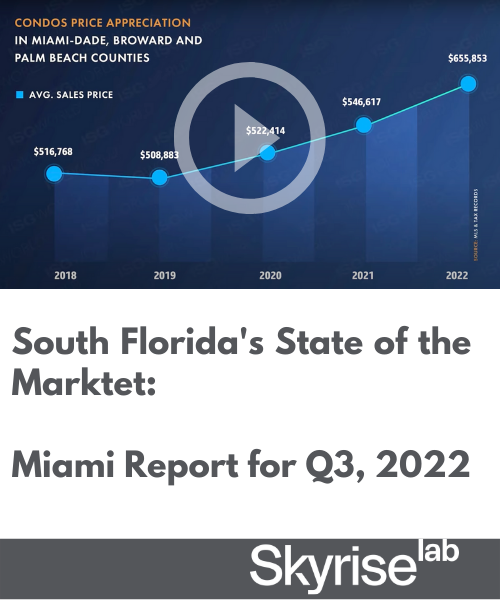 The real estate market has been on quite a roller coaster ride for the past two years. On a national level, home prices were soaring pretty much across the board.
But with the current conditions of the stock market, coupled with rising interest rates mandated by the FED to correct inflation, many markets across the US entered what is being labeled as a "shifting market". However, South Florida seems to be the exception as it continues to thrive.
This video of 2022's third quarter by Craig Studnicky and Rlated ISG, featuring an appearance by Mayor Francis Suarez, not only discusses the current state of the market but why projections are that home prices will likely continue to increase.
The Pandemic Effect
While most of the country was shut down because of the COVID-19 pandemic, Florida was one of the states that chose to be more liberal and not only did it stay opened, but it also invited visitors. Through the rise in popularity of remote working, many people from high income tax states, such as New York, decided to permanently relocate to Miami, Fort Lauderdale and Palm Beach. This created a lot of buzz about how Miami was now not just a vacation destination, but instead how it is quickly becoming one of the top cities not just in the US but in the World.
The innocent tweet by Mayor Suarez responding to Twitter user @zebulgar's "ok guys hear me out, what if we move Silicon Valley to Miami" caused an immediate frenzy, the tweet went viral and no one could prepare what would come next. Swarms of tech companies initiated plans of expanding or completely relocating to Miami. Many of these bringing with them a sizable workforce with them. But the tech industry was not the only players making moves, Wall Street's Goldman Sachs has expanded their presence and in a controversial move, Billionaire Ken Griffin's Citadel will be relocating its headquarters to Brickell. All in all, 122 Major Companies have agreed to relocate in the past two years, and only 15% of them have already made the move.
Follow the Money
The IRS is currently ranking Florida as having the largest number of higher income families migrating to the Sunshine State. As it stands, Miami is number 1 in wage growth as well as number 1 in tech growth in the Nation and unsurprisingly, it is ranked #1 in the nation for foreign investments by Financial Times. This is a clear explanation of why Miami saw a rental price increase of 45 to 50% in recent history. Interestingly enough, even though the rest of the country is speaking of a "changing market", as it stands Miami's average home prices are still 15% higher than last year (highest year in all of Miami's history), also.
Supply and Demand
Clearly, the demand is certainly there for Miami real estate. And while locals keep getting the raw end of the stick, those who are choosing to relocate to South Florida are still getting a "bargain" compared to the markets they are relocating from. Seeing as how many of those jobs are in the tech and finance industry, their buying power is certainly more competitive, fueling demand.
On the other end, homeowners are choosing not to sell because A) their mortgage rates are much lower than the current rates, and B) where will they go? Home prices keep rising! And even though some claim demand is 'softening', the fact that sellers are still reluctant to list their homes for sale furthers the problem of lack of supply.
Where do We Go From Here?
The average population growth over the past 10 years marks over 930 people per day moving to Florida, and it is projected to grow to 1,100 people per day. So with all of these people now actually living here, instead of just vacationing, where will they live? Well, the good news is that without changing its current zoning ordinances, Miami can grow 10 times its current size.
However, even though there are currently 47,000 residential units in the current construction pipeline, it is not enough to fill the current demand. Urban core areas such as Brickell, Edgewater, Wynwood and Downtown Miami are seeing the most new developments, while beachfront neighborhoods such as Sunny Isles still have some room for more growth. Fort Lauderdale is also seeing an increase in construction fueled by demand, mainly in Downtown Fort Lauderdale, with a few others being announced in Central Beach and Pompano Beach.
The International Advantage
South Florida has long been thought of as a vacation destination or second home for both domestic and international buyers. Not only can you enjoy all the city has to offer, but you can also enjoy of owning a greatly appreciating asset. And with the current sociopolitical climate in the world, South Florida seems like one of the best hedges against financial risk for domestic buyers, but it certainly feels like a lifeline to many International buyers.
Finally, being able to return to traveling and purchasing assets in the US, and seeing what many consider unfavorable results in their presidential elections, investors from Colombia, Brazil, Chile and Argentina have gotten off of the sidelines and have heavily invested into the Sunshine State, continuing to fuel demand and with the offer of extremely attractive investment property alternatives, new development and pre-construction projects seem to be many international current buyer's favorite investment option.
To learn more about finding your ideal home in Miami or Fort Lauderdale, contact us any time.