Spotlight on 1428 Brickell
Posted by Juan Iarussi on Friday, November 25, 2022 at 11:03:19 AM
By Juan Iarussi / November 25, 2022
Comment
1428 Brickell
The Residences at 1428 Brickell promises to be the iconic centerpiece to Brickell's quintessential skyline. It's design, is an artistic architectural statement. Stated to be delivered in 2026, the 70-story masterpiece will be home to a limited collection of 189 residences. These homes will be delivered fully furnished and will feature 2 to 4 bedroom residences with dens ranging from 1,800 to 4,000 square feet. The Penthouse collection will offer residences ranging from 4,000 to 10,000 sq ft.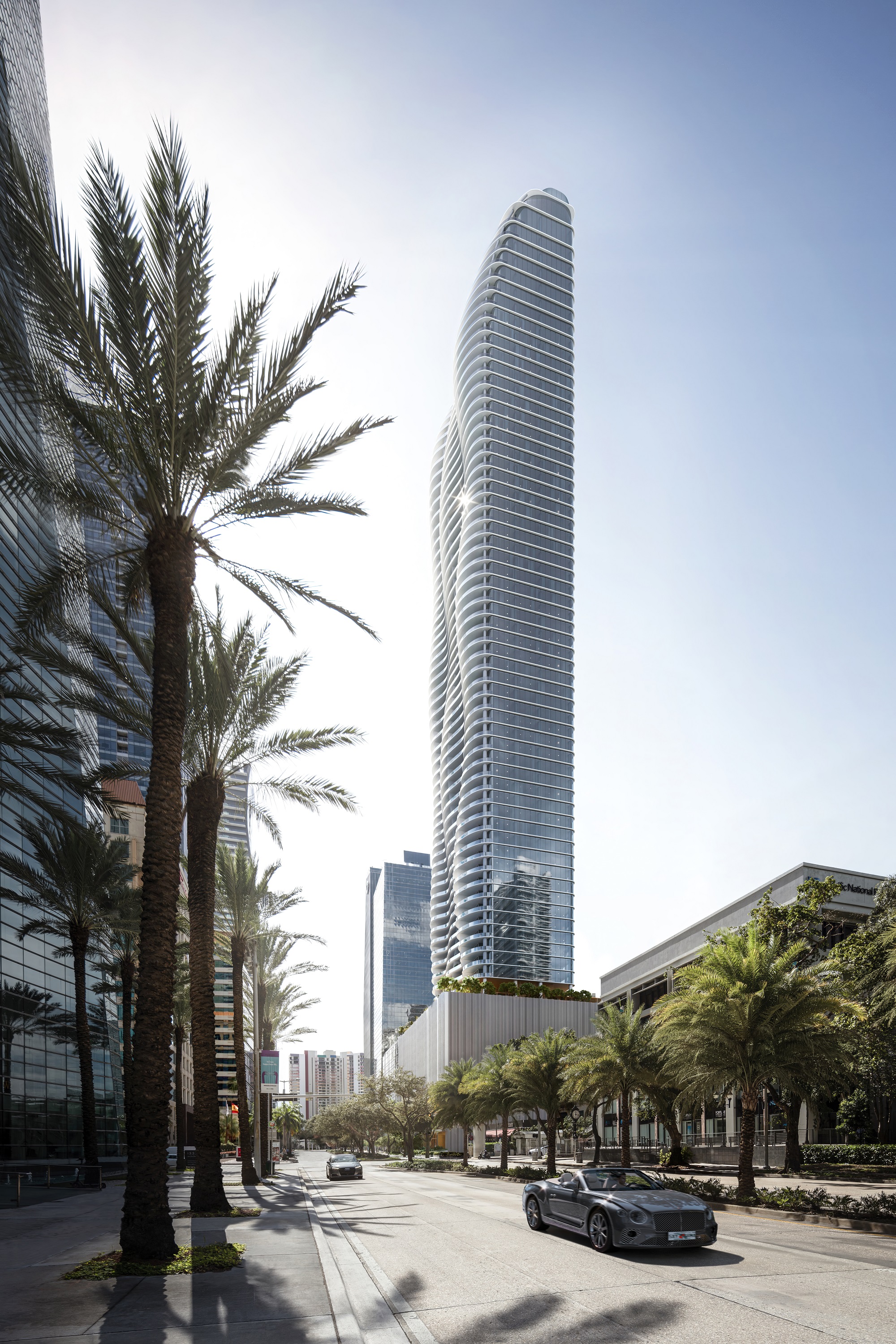 Each residence at 1428 will showcase stunning water views. These homes have been conceived with the notion of maximizing the quality of life of its residents. Every detail has been considered to enhance and invigorate the spirit. Inviting expansive terraces with summer kitchens featuring glass frontages integrate indoor and outdoor living, adding fluidity of lifestyle.
These homes will feature sunrise and sunset views with their flow-through design. The design is intended to be spacious and light filled with floor-to-ceiling glass throughout
Luxury design elements will also include:
Ceiling heights start at 11 ft. and rise to 30 ft. in select
Two-story residences feature Antonio Citterio-designed sculptural staircases
Kitchens are exquisitely designed by Antonio Citterioand are offered in a variety of color palettes
Arclinea and Vaselli kitchen cabinetry designed and artisanally crafted in Caldogno and Rapolano, Italy Specialized fully-integrated Gaggenau appliance
Double door entry with private foyer and open views for a dramatic arrival experience
Ready to move in with all lighting, wall detailing, closets and flooring in place
Package and dry cleaning delivery compartment
Private storage available directly on residential floors
Amenities
Owners will enjoy access to amenities on par with a luxury resort, including:
Level 7: Resort Deck: The resort deck on the seventh floor is a family-focused playground with an amazing range of activities, including:
Resort-style pool with shallow wading area and poolside cabanas
Aquatic therapy area with stationary exercise lap pool and jacuzzi spa
Club bar and lounge, offering food and beverage service
Level 10: Guest Suites:
Fully furnished, Antonio Citterio-designed private suites exclusively for residents' guests and their families
Level 66: Wellness Club: An entire floor dedicated to your health and wellbeing, including:
10,000 sq. ft. spa and gym with inspiring classical architecture
Private his, hers, and couples spa suites, each complete with its own infrared sauna, steam shower, whirlpool and treatment area
Expansive Technogym-designed and equipped gym with weight room, high-intensity interval training (HIIT) zone, and yoga studio
Juice and nutrition wellness bar for healthy post-workout food and beverage
Plunge pools, meditation room, treatment rooms, beauty suite and barbershop
Level 67: Two-Story Owner's Club:
Stunning double-height wine and spirits lounge with private temperature-controlled storage
Private dining room with stunning, limited edition Vasellichef's kitchen for intimate gatherings and special occasions
Two-story resident's lounge with private event mezzanine
State-of-the-art office suites with private offices, conference rooms, and lounge
Full bar featuring craft cocktails and culinary fare
Level 70: Two-Story Rooftop Observatory:
Rooftop pool with breathtaking views, 850 ft. in the sky
Two-story soaring atrium with lush planting and sereneseating areas
Rooftop lounge bar with craft cocktails and culinary fare
Poolside service
Location
The Residences at 1428 Brickell is located in Miami's financial Brickell neighborhood, known to be the city's Financial District. For those who are looking a true city feel, offering walkability and a plethora of options for shopping, dining, and nightlife, there is no need to look any further. Brickell has been long known to be one of the most 'walkable' areas in South Florida. The eclectic collection of architecturally distinguished high-rises has gained Brickell it's nickname of the "Manhattan of the South".
Within walking distance, you can reach Huotong. This stylish and modern restauran, self describes as a fiiery Northern Chinese cuisine meets artisanal dim sum and exotic signature cocktails. Here Chinese 'yin' meets Miami 'yang' - 100-year-old Chinese bricks mingle with vivid pop-art colors, smooth dark chocolate mousse rub shoulders with heady Sichuan peppercorn, and watch Hutong's Great Wall of hand-carved wood panels pulsate to the latest music with Miami's best DJ's
You can also enjoy a great blend of good food, waterfront dining and a great atmosphere at Cantina la Veinte. Enjoy an extensive menu of Mexican Cuisine dishes, offering representative dishes of each state of the country, with traditional techniques and recipes (handmade tortilla, sauces made in a molcajete), along with avant-garde techniques such as vacuum cooking, specification, foam, etc.
If you're in the mood for sushi, in a truly Instagram worthy environment, you must look no further than Sexy Fish. Chef Director and Michelin-starred master Björn Weissgerber has drawn on decades of experience to create an extraordinary menu that juxtaposes incredible flavor and impeccable technique to look every bit as good as it tastes. Its destination bar offers an extensive list of cocktails, full of carefree character and adventurous spirit.
Also, nearby is Brickell City Center, a truly cosmopolitan destination featuring upscale shopping, dining & entertainment. Some of your favorite shops, from Saks Fifth Avenue, to Zara and Victoria's Secret. And great dining options like Tacology, Quinto La Huella and Pubelly Sushi. As well as CMX Movies and Entertainment Cinema.
The Miami International Airport is just a 20 to 25 minutes' drive from 1428 Brickell, making travel convenient.
To learn more about buying a condo in 1428 Brickell contact our office at any time. We have the team of professionals you need to find your ideal luxury high rise condo in Miami.
As soon as listings become available, they will be displayed below or visit our 1428 Brickell page for more information on this luxury Brickell condo or click "Learn More" below