Special Events in Miami this Fall
Posted by Juan Iarussi on Thursday, September 22, 2022 at 7:38 PM
By Juan Iarussi / September 22, 2022
Comment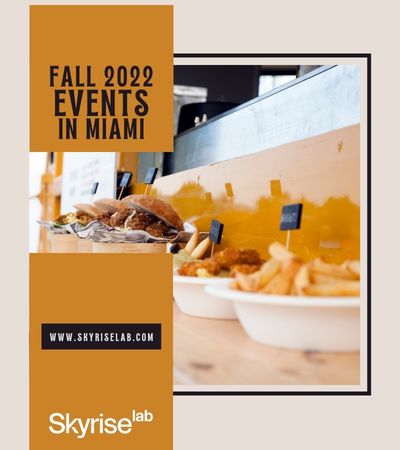 Most people think of Spring Break or summertime when they imagine having fun in Miami, but there's always something exciting happening here no matter the time of year.
If you're filling up your calendar for the Fall in Miami, check out these special events for 2022.
Seed Food and Wine Week
It's no secret that Miami is one of the best places to live if you love food. As home to some of the best chefs in the nation, as well as multiple Michelin starred restaurants, it's no surprised that there are also many food festivals taking place in Miami.
At Seed Food and Wine Week, foodies can experience how flavorful healthy food can be. Many people think of gourmet food as either plant-based or delicious, but Seed Food and Wine Week celebrates the intersection of the two. Enjoy workshops, tastings, panel discussions, and meet and greets at the festival from November 2 to 6.
Miami Book Fair
From November 13 to 20, stop by the Miami Book Fair, the nations premier literary festival. This huge street festival is in its 39th year and is a bookworm's dream, with author conversations, special presentations, and the opportunity to discuss your favorite books with other enthusiasts.
Located at the downtown campus of Miami-Dade College, this outdoor festival will feature over 300 national and international authors.
South Beach Seafood Festival
Miami is known for its amazing food, especially seafood, so it's only fitting that there would be a world class festival celebrating seafood. At the 10th annual South Beach Seafood Festival taking place from October 19 to 22, guests will enjoy a carefully curated showcase of the best culinary talents in Miami.
Perfectly scheduled during peak stone crab season, you will enjoy some of the best seafood you've ever tasted, alongside live music performances. Proceeds from the festival will support community initiatives with Miami Dade County Public Schools.
Spooky Wonderland Haunted Circus Festival
This creepy Alice in Wonderland themed event will take place until October 30, open all week from September 15th to October 30th. Spooky Wonderland Haunted Circus Festival is a traveling sideshow and carnival of spooky and kooky characters. Guests join Alice on an adventure through interactive performances, games, quests, themed photo ops, and pumpkin carving stations.
Art Basel Miami Beach
Taking place in Hong Kong, Basel, and Miami Beach from December 1 to 3, this is the perfect place to enjoy modern and contemporary art in Miami this Fall. Art Basel showcases more than 4,000 artists, drawing curators, celebrities, and collectors from around the world.
North Beach Music Festival
The second annual North Beach Music Festival will take place from December 9 to 11 at the North Beach Bandshell. Enjoy improv rock and funk from artists Lotus and Lettuce, Karl Denson's Tiny Universe, Dopapod, Antibalas, Trouble No More, Keller Williams, and more. When you get hungry, stop by the amazing local food vendors that will be on site.
Want to learn more about living in Miami? Contact us any time.