Reasons to Buy a Miami Condo
Posted by Juan Iarussi on Thursday, July 28, 2022 at 4:34 PM
By Juan Iarussi / July 28, 2022
Comment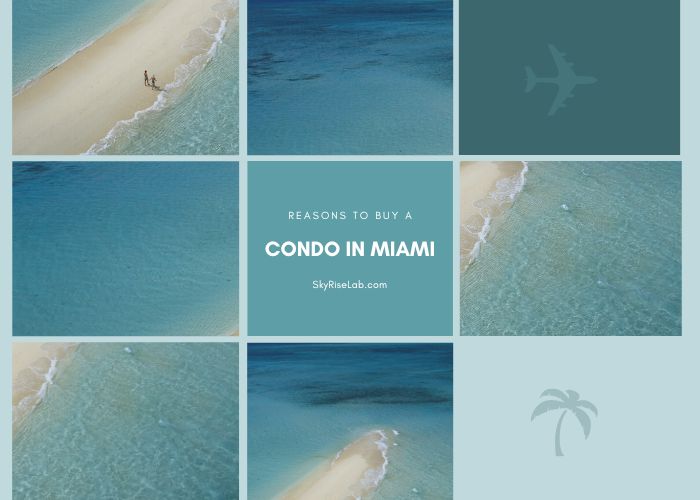 Miami is one of the best places to live in Florida, with a vibrant nightlife, gorgeous beaches, an impressive restaurant scene, a diverse community, and a thriving local economy. Whether you want to find the perfect place to relocate now that you can work remotely, you want to find your ideal retirement location, or it's time to invest in a vacation home in one of your favorite destinations, a Miami condo might be perfect for you.
Offering amenities and services you will never find in a single family home as well as access to exclusive locations, condos often provide a lifestyle that is preferable to other types of property.
Not sure if a condo is right for you? Keep reading for our top reasons to buy a Miami condo.
1. Condos are low maintenance
While we are sure there are some people who enjoy home maintenance tasks, for most of us the maintenance of the home is simply a chore that must be done. When you own a condo instead of a single family home, the majority of your maintenance tasks can be taken off of your to do list.
Living in a condo means not having to worry about:
Landscaping and outdoor maintenance
The condition of your roof
Air filters, HVAC systems, and even most plumbing and electrical maintenance
Security
Parking
The lifestyle you will enjoy as a condo owner in a luxury Miami condo is nearer to a resort vacation than a typical home ownership experience.
2. The amenities in a condo are unbeatable
For the high end resort lifestyle you crave, there is no better choice in Miami than a luxury condo. While each building will feature unique amenities, there are some that you can reasonably expect to find in most of the luxury buildings in the city.
These include:
Concierge service
24/7 security
Valet service
Pool, hot tubs, cabanas, and outdoor entertaining space
Private fitness facilities
Private meeting rooms
Private screening room
Private spas
Housekeeping services
Pet grooming services
Childrens and teens rooms
Culinary services including in-home dining and catering options
3. Condos offer flexibility
Many Miami condos are set up to be enjoyed in a variety of ways. Some owners are looking for a place to move into as their primary residence, while others plan to travel for a large portion of the year. Still others are looking for an investment that can be leveraged as a source of passive income for the time being. Any of these scenarios, and more, can be accommodated by a condo in Miami.
There are many condos in Miami that are specifically designed to be listed as a short term vacation rental, available for sale as a furnished rental and with unique services designed to make the process easier. These services include already completed photography, marketing materials made available, and more.
If you plan to travel and be in your Miami home only during the winter or between trips, a condo is an obvious choice. Most luxury Miami condos offer housekeeping services and will handle the necessary maintenance that would otherwise fall on you as the homeowner. There are also many buildings that feature pet sitting and house plant care services for while you are away.