Questions to Ask When Buying a Luxury Miami Condo
Posted by Juan Iarussi on Thursday, August 18, 2022 at 3:30 PM
By Juan Iarussi / August 18, 2022
Comment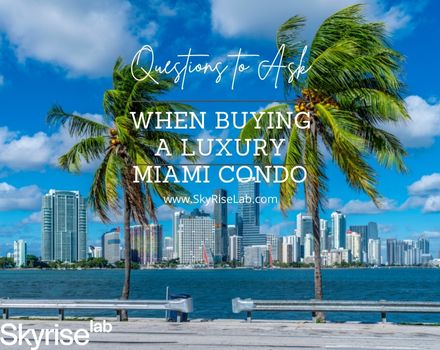 A luxury Miami condo offers a unique lifestyle, with the opportunity to own Miami real estate while enjoying a low maintenance, resort lifestyle.
There are so many impressive luxury condos in Miami, you may struggle at first to decide which is the right fit. If this is you, start with these questions to ask before buying a luxury Miami condo.
1. Is this the location I want?
The first question to ask yourself is where in Miami you want to live. With such a diverse array of neighborhoods to choose from, you will find luxury Miami condos with waterfront locations, arts and design district locations, and walkability to all the excitement of Downtown.
We would love to help you narrow down where you want to look. Check out our community profiles to get an idea of the neighborhoods you are considering, or contact us any time with questions.
2. Are there any restrictions in this building?
Each luxury condo building will have its own community restrictions and guidelines. Before buying a condo, make sure to carefully review these restrictions to be sure nothing will conflict with your plans for the property.
For example, many buildings have a limit on the number or size of pets that can live in each unit. There are also some luxury condos that are designed to accommodate short term vacation rentals and some that prohibit the use of the residences as income properties. Either one may be a pro or con for you; the important thing is reviewing all the information so you can make an informed decision.
3. What are the amenities in the building?
Miami luxury condos are known for their impressive amenities, on par with five star resorts. A list of the building's amenities is one of the best ways to compare buildings you are considering.
Some condos have specific kid friendly amenities or pet services, while others are designed to support your health and wellness goals. Whatever you are looking for, chances are high that there is a building in Miami that will meet you needs. If you have something in mind, let us know and we can help you find the ideal luxury condo.
4. What is parking like for me and my guests?
Each Miami condo has a different parking situation. Some offer valet service for residents and their guests, some have covered parking, and some have car elevators to the residences.
Ask about all these features, including how many guests are welcome to park if you host a party or special event to make sure the building is the right fit for your lifestyle.
5. What hurricane-proofing has been done in the building?
While none of us like to think about it, hurricanes do affect Miami from time to time. Ask about the hurricane proofing that has been done in the building and whether the construction was done up to code, or surpassing it.
6. How is security in this building?
It is common to find 24/7 security in all Miami luxury condos, but some have additional features like secured package rooms, private elevators, and even services to protect your home when you are traveling. Ask about the security in the building before deciding if this is the home for you.
7. How long will this residence work for me?
Finally, think ahead a bit. While none of us can fully predict out future plans, you may be able to come up with a general idea of how long the residence will work for you.
For example, if you plan to grow your family soon, will the unit work for your expanding household? If you expect to travel significantly for work in the future, does the commute to the airport work for you?
One of the best ways to make sure you are happy with your luxury condo purchase is considering how long you will love it.
To find out more about any of the luxury condos in Miami, contact us any time. We are ready to help you find your Miami home.