Miami's Best Annual Events
Posted by Juan Iarussi on Saturday, July 16, 2022 at 12:52 PM
By Juan Iarussi / July 16, 2022
Comment
Annual Events in Miami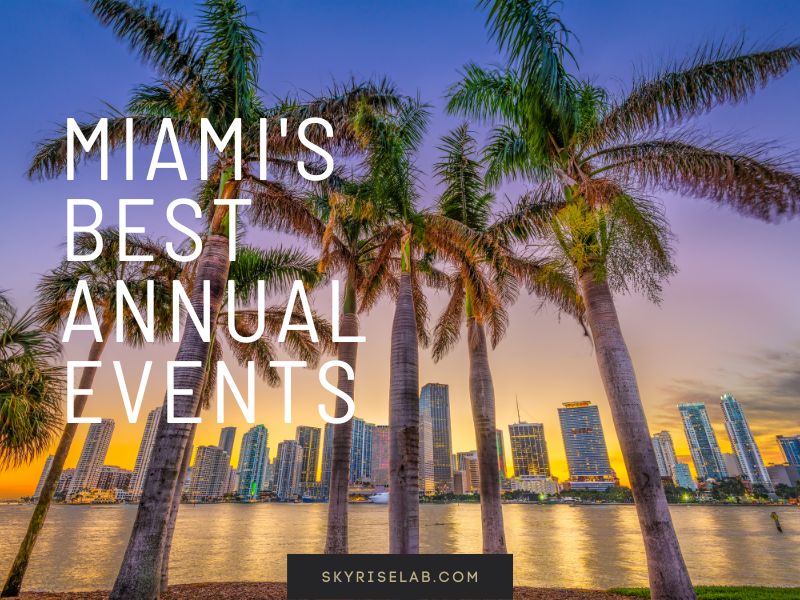 Miami has something exciting to do every day of the year, any time of the day. The Magic City is home to professional sports, world class dining, some of the best beaches in the world, and luxury shopping and entertainment.
In addition to all that Miami has to offer all year long, the city is host to a long list of special annual events, highlighting every interest and passion. Keep reading for a list of some of the best annual events in Miami.
South Beach Jazz Festival
For an entire weekend in South Beach every January, The South Beach Jazz Festival takes place across multiple venues. The festival was founded by David New, who defied doctors' prognoses and regained his ability to walk and hear after losing them to a rare disease.
The festival now "uses the rich legacy of jazz to expand our community's perspective on individuals with unique abilities."
Coconut Grove Arts Festival
Every February in beautiful Coconut Grove, Miami residents enjoy the Coconut Grove Arts Festival. The festival was founded over 55 years ago and continues to be one of the most inspiring displays of both established and up and coming artists.
The 3 day outdoor event is a must see for any lover of art, featuring over 280 artists working with a wide range of mediums.
Food Network & Cooking Channel South Beach Food & Wine Festival
A South Beach favorite for over 20 years, the Food Network & Cooking Channel South Beach Food & Wine Festival is foodie paradise, where you can see your favorite celebrity chefs and sample the best food and wine around. The star studded 4 day event is one of the hottest Miami annual events and is nationally televised.
Carnaval Miami
Originally called the Calle Ocho Music Festival, Carnaval Miami was started in the 70s to celebrate the art, music, fashion, cuisine, and sports of Miami culture. It quickly became the nation's largest Hispanic festival, and continues to be one of the most vibrant and exciting annual events in Miami. The festival is fun, energetic, and totally family friendly.
Ultra Music Festival
Ultra Music Festival is the world's premier electronic music festival, hosting the best DJs from across the globe for over 20 years. Against the sparkling backdrop of Downtown Miami, on the shores of Biscayne Bay, this festival draws the biggest names in electronic music and is a party you won't want to miss.
Miami Beach Polo World Cup
With views of the goreous turquoise waters and a warm ocean breeze blowing through the crowds, people love to watch the best in the sport compete at the Miami Beach Polo World Cup. It is the largest beach polo event in the world and features a glamorous combination of polo matches, fashion, and exclusive parties.
Miami Fashion Week
The first international platform for Resort collections, Miami Fashion Week is unlike any other global fashion week, with a personality that is distinctly Miami. Every year in June, designers showcase fashion to bridge the gap between the US and Latin America. Special discussions on sustainability, diversity, and culture are also a part of the event.
New Times Brew at the Zoo
If you like animals and craft beer, there is one Miami annual event that you will love: New Times Brew at the Zoo. Guests enjoy unlimited sampling from over 100 local and international beers, while strolling around Zoo Miami. You will also find abundant food vendors with perfect pairings, and a perfect atmosphere set by live music performances. Enjoy the zoo like never before.
To learn more about living your dream in Miami, contact us any time.