How to Make Your Luxury Offer Stand Out
Posted by Juan Iarussi on Monday, May 2, 2022 at 3:06 PM
By Juan Iarussi / May 2, 2022
Comment
In a competitive seller's market, making your offer attractive to the seller can be daunting. If you have your eyes set on a property and are concerned about making an attention-grabbing offer when you anticipate having competition, keep reading for our tips on how to make your offer stand out.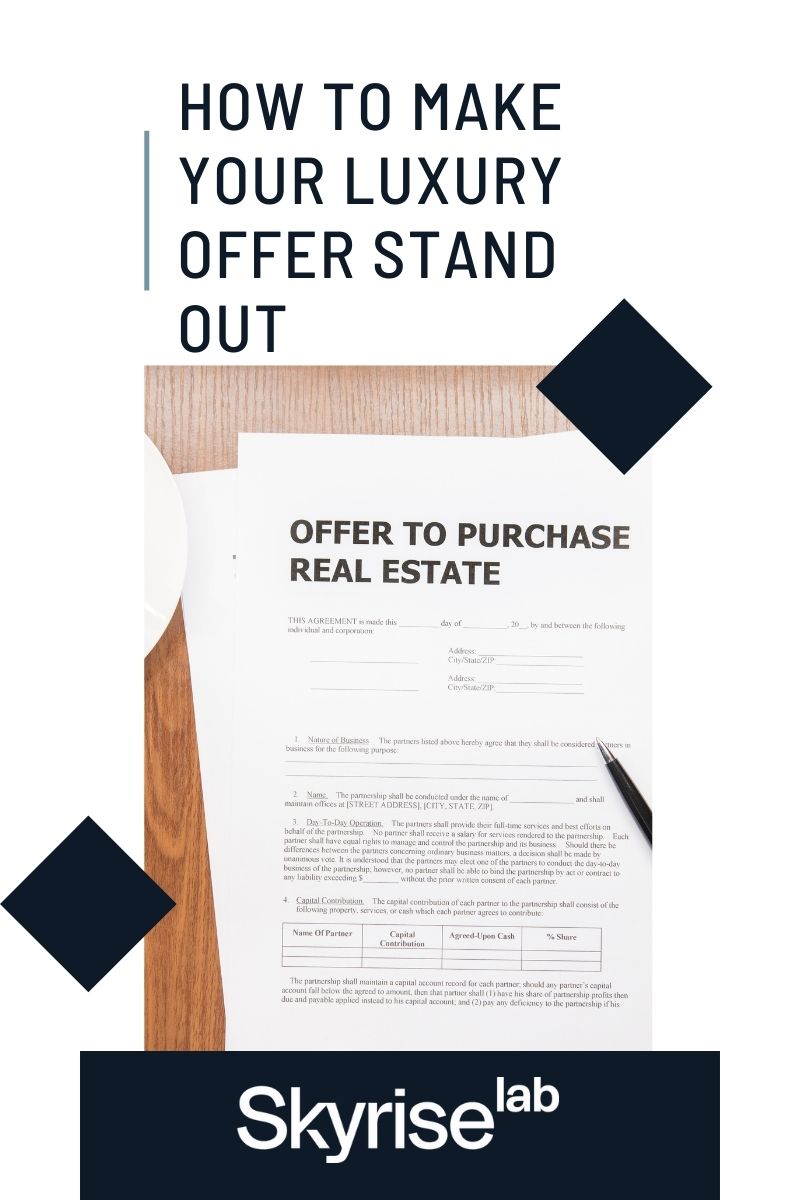 1. Eliminate contingencies whenever possible
If at all possible, eliminate any contingencies. When a seller can choose between a contingent offer and a non-contingent offer, they will almost always choose one without a contingency because it represents less risk of escrow delays.
This includes offers contingent on the sale of a current home or seller concessions. In some cases, it is still wise to make an offer contingent on a home inspection, but all other financial contingencies should be avoided if at all possible.
2. Avoid requesting personal property as a part of the sale
A seller's market is not the time to ask for the inclusion of that piece of furniture or appliance you really want. Make your offer as simple, clean, and attractive as possible.
More: 6 Reasons to Buy a Condo instead of a Home
3. Consider offering above asking
Low offers are a poor strategy in a seller's market and will likely result in wasting a lot of time. In some cases, even just offer $5,000 above asking is enough to send a message that you are willing to pay a better price for the property. This communicates a position of financial strength, which makes you a more attractive buyer.
4. Waive the appraisal contingency
In some cases, you can confidently waive the appraisal contingency in order to streamline and fastback the process. Appraisal values are at the discretion of the appraiser, and can in some cases come back lower than needed to finalize financing. If you are willing to offer cash to cover the difference between appraised value and purchase price, the seller is likely to choose you over deals that involve a higher level of risk for them.
5. Offer a higher than expected earnest money deposit
If possible, offer a higher earnest money deposit than the seller will expect. Money talks. This move will make the statement to the seller that you have the cash required to close on escrow, avoiding potential delays and wasted time for them. If you are up against another potential buyer with less obvious cash reserves, this strategy may lead the seller to feel more confident accepting your offer.
6. Add an escalation clause
If you are willing to offer more than your initial offer in order to outbid other potential buyers, communicate to the seller by requesting that your agent add an escalation clause to the offer. This strategy indicates to the seller that you are prepared to offer up to $X if an offer for more than your initial offer comes in. Consider it a bit of a trump card, communicating that you are coming from a place of financial strength.
7. Offer a month of free occupancy
If your timeline is flexible, consider offering a month of free occupancy to the sellers after closing. This may not cost you anything, but is a massive convenience for them. It may be enough to tip the scales in your favor if it makes their transition out of the property significantly easier.
Buying real estate in this seller's market is challenging, but not impossible. We have the team you need to make a strong offer and secure your ideal property, and we're here to help. Contact us any time to find out more about making an offer the seller won't refuse.
For more information on buying luxury Miami condos or homes, contact our office at any time.