How to Buy Pre-Construction
Posted by Juan Iarussi on Friday, February 25, 2022 at 6:51 AM
By Juan Iarussi / February 25, 2022
Comment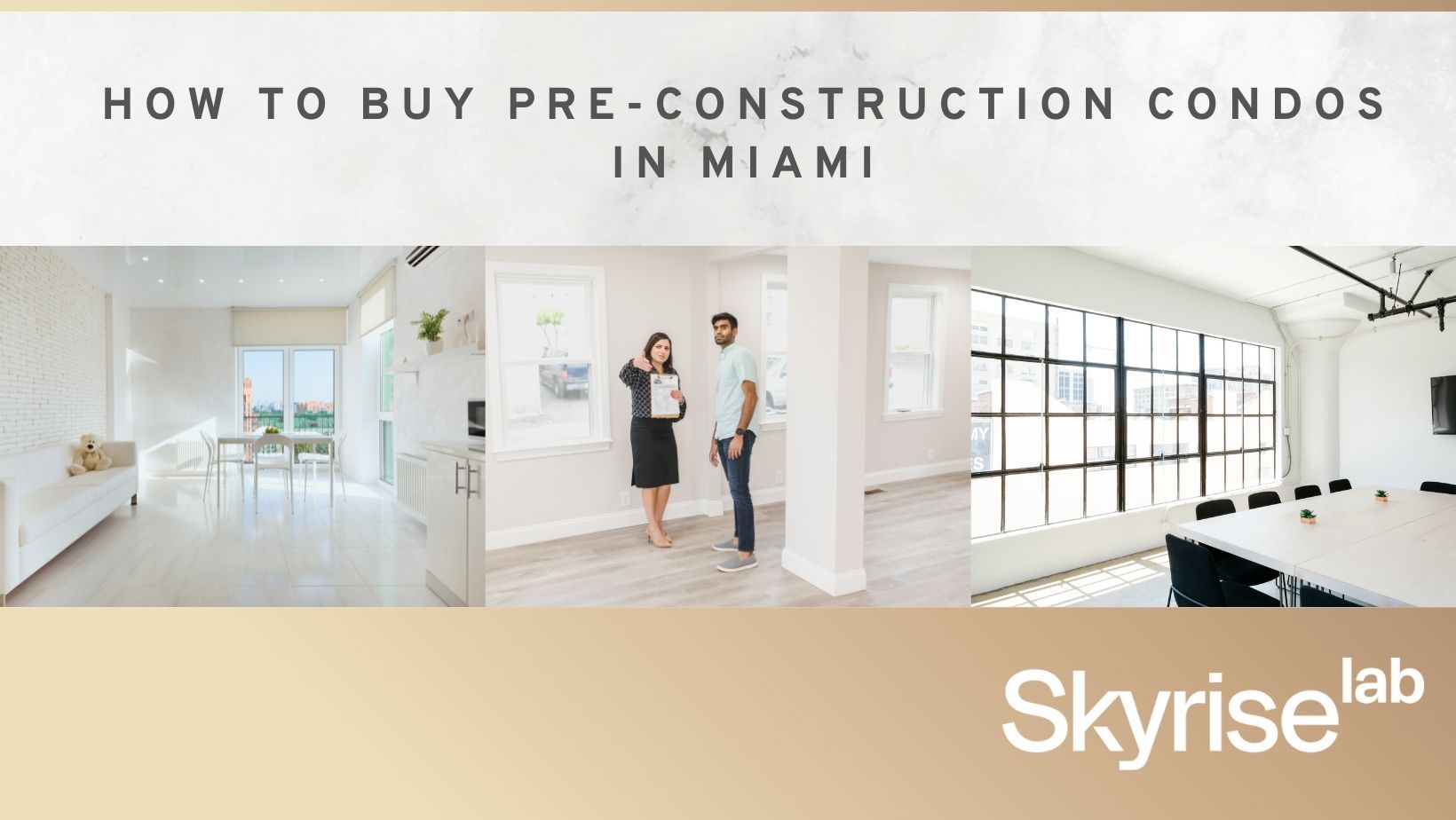 Pre-construction is buying a condominium (typically) that's not built yet. This might sound a little scary but there's really no need for apprehension. In a booming market, especially in metropolitan areas like Miami, purchasing pre-construction is fairly common. But, what are the risks, how do you go about buying pre-construction, and are there any tips to know?
Why do developers sell pre-construction?
One of the main reasons that developers and builders choose to sell pre-construction condominiums is because of the deposit structure. Most of the time these developers can put 20% of the value of the condo down but they earn an appreciation on 100% of the value of the home for the next 3 to 5 years. Most of these developers and investors don't have to worry about taxes, maintenance, mortgage payments, insurance and tenants. But what does that have to do with you, the buyer?
This is a chance to lock in a preferred price while competing with fewer buyers. This truly is the key to pre-construction condominiums. This means that you purchase a condo before or during construction. This is not an uncommon practice either. Developers and investors do this quite frequently not only to gain interest and urgency, but to get ahead of the game and sell out the properties before the real competition begins.
What to know about buying pre-construction.
Down payments are typically 20%.
There may be some flexibility on the deposit structure and deposits are generally staggered over a period of a year but each project can be different. Most general deposit structures will be 5% at signing, which is cashed as soon as the conditional period expires, 5% within 30 days, 5% within 60 or 90 days, and 5% either with a 120/240/365 or on occupancy. Each development is set up differently so it's important to understand the structure before buying a home.
These pre-construction projects are typically launched in different phases. There may be an early phase for VIP buyers, those that provide all cash, or other structures.
Delays.
Remember, this is new construction and delays are typically inevitable. Developers will set their closing date typically early because it's easier to push the date back for construction that it is to pull the closing date earlier. Plus, materials, labor, zoning, codes, and permits can all delay the final closing date so it's important to be flexible when buying new construction.
Maintenance fees.
HOA fees or condo association fees can typically increase up to 20% after two years of ownership. Those first two years the builder is typically responsible for any shortfalls in the budget but after the two-year period expires, it's up to the condo owners.
There are two closing dates.
A general closing date and interim occupancy. The date that the condo is ready for occupancy and the date that the title transfers. The interim occupancy means that the owner will pay the builder a stiffened that will be close to the ownership cost of the unit. This cost is based on a mortgage of 80% plus the maintenance and property taxes. This interim occupancy typically lasts for a few months and up to two years. During this interim occupancy, the condo is not technically yours yet. You cannot rent the property or do any renovations until you have written consent from the developer. If the condo is an investment. It's important to get permission to lease the property during the interim occupancy and it needs to be in writing.
Each pre-construction condominium in Miami is unique and different and developers and builders structure their payment plans and deposits differently so it's important to understand the logistics on each condominium building. However, buying pre-construction typically means that you can lock yourself in to an early rate and early purchase price without a lot of competing buyers. If you're interested in learning more about pre-construction condos in the Miami area, browse active listings below or simply contact our office to learn more and schedule a consultation.