Best Miami Neighborhoods for Young Professionals
Posted by Juan Iarussi on Thursday, August 4, 2022 at 10:02 AM
By Juan Iarussi / August 4, 2022
Comment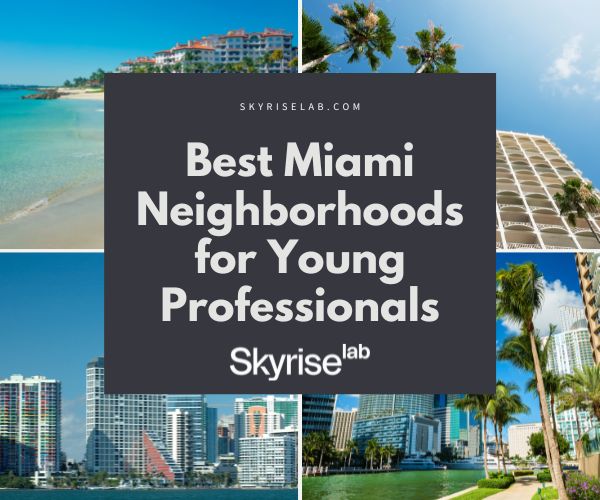 Home to many of the best luxury high rise condos in the world, Miami is the perfect place to live as a young professional. Vibrant nightlife, easy access to a major airport, and a thriving job economy are just some of the reasons young professionals love to live in Miami.
Not sure which neighborhood is the right fit for you? Each Miami neighborhood has its own unique personality, and many are perfectly suited to a professional's lifestyle. Check out our list of 3 of the best Miami neighborhoods for young professionals, or contact us to learn more.
Brickell
If you work in the finanical industry, Brickell is likely where you will spend a lot of your time in Miami. Brickell is Miami's financial district, and is also home to gorgeous high rise condos with amenities that are ideally suited to a busy and successful professional.
Brickell features one of the lowest crime rates in the city, and is one of the most walkable neighborhoods with plenty of places to eat, grab a cocktail, or shop just steps from anywhere.
Take a bike ride at The Underline, a 10 mile linear park that features public art installations and gorgeous scenery along the bike paths. You can hop on the path from Brickell and ride as far as you would like.
Looking for the perfect happy hour location in Brickell? Try Blackbird Ordinary, where live music sets the mood for every Friday's Happy Hour.
When you're in the mood for brunch in Brickell, try the vegan banana french toast or Southern-inspired eggs Benny at Honey Uninhibited.
Coconut Grove
Coconut Grove is a Miami neighborhood that features both single family homes and luxury condos, with close proximity to some of the best shopping and dining in Miami. Home to arts festivals and special events throughout the year, Coconut Grove is a great place to live if you're always up for something new to experience.
Residents of Coconut Grove enjoy abundant green space that provides a less urban atmosphere than other Miami neighborhoods, while still enjoying quick access to the airport and beaches. Nightlife in Coconut Grove is more low-key and casual, with many taphouses, wine bars, and pub-style venues.
Spend a peaceful moment at Coconut Grove's Kampong National Tropical Botanical Garden. Enjoy delicious handmade pizza from Harry's Pizzeria, choosing from classics like Margherita Pizza or something more innovative like French Onion Soup or Short Rib Pizza.
Downtown Miami
Downtown Miami offers an abundance of jobs and is a walkable neighborhood with immediate access to museums, restaurants, shopping, cafes, and fun nightlife just steps from any condo. There is also nearly always something new and exciting taking place at a special event in Downtown Miami.
If you want to be close to everything, Downtown Miami will be the perfect location for you. In the heart of the city, you will be just minutes from the airport, the beaches, and all the diversity Miami has to offer in neighborhing districts.
Thanks to incentive programs for business owners in the area, new local businesses are always opening up in Downtown Miami. That means you will never run out of speakeasies, rooftop bars, coffee shops, and restaurants to try.
Enjoy some live entertainment at Flamingo Theater Bar, like stand up comedy or musical performances from local artists.
For mouthwatering Pan-Asian cuisine, try the Peking Duck with Homemade Pancake, Sanchen Chili Prawn, or Shrimp Dumpling at Da Tang Zhen Wei.
Want to learn more? Contact us any time to find out how we can show you your ideal property in the Miami area.