5 Reasons to Move to Miami
Posted by Juan Iarussi on Wednesday, August 17, 2022 at 7:33 PM
By Juan Iarussi / August 17, 2022
Comment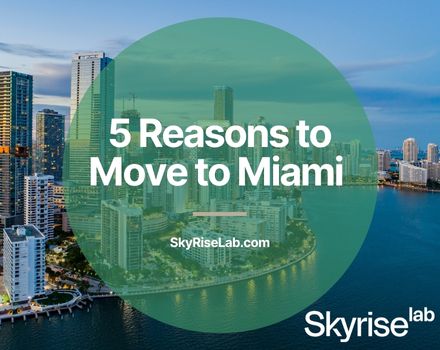 Whether you are looking for the best place to start a business, retire, or relocate with your remote job, you might want to put Miami on your list. If you have the chance to choose a new place to live, there are lots of reasons to consider Miami; keep reading for 5 of them.
1. The Diverse Neighborhoods
Miami is a melting pot of cultures from around the world, with diverse neighborhoods that highlight different cultures. Each pocket of Miami has its own vibe and aesthetic, which is just one of the reasons it attracts over 23 million people from around the world each year.
Little Haiti is known for its Afro-Caribbean festivals and colorful streets. The Wynwood District is a creative neighborhood filled with wall murals and great handcrafted coffee and beer. Little Havana boast authentic Hispanic culture that feels like an extension of South America.
Wherever you decide to live, there is always some diverse, exciting, and new to experience in another Miami neighborhood.
2. The Unparalleled Nightlife
When you think of Miami, the nightlife probably comes to mind. There is no other city on earth like Miami, with dance clubs, rooftop cocktail bars, and crazy parties waiting for you every weekend.
Living in Miami means enjoying the nightlife people come from all around the world to experience on vacation. Whether you want a quiet, sophisticated place to grab a drink or a list of places to dance the night away, Miami has it all.
3. The Restaurant Scene
Miami is filled with some of the best restaurants in the world, offering everything from quick and casual eateries to Michelin-starred restaurants. This city is a foodie's dream come true, with cuisines from around the globe to enjoy.
Looking for fine dining? Try Stubborn Seed, a Michelin-starred, chef-driven restaurant known for their innovative twist on American food. If you appreciate an artfully crafted cocktail, you will love the selection at Stubborn Seed.
Fiola is another great choice for fine dining in Miami. This is the place to celebrate a momentous occasion, with every detail working to create a totally lavish experience.
You will also find mouthwatering offerings at local Miami food trucks, some of the best in the country. For a casual date night or a quick stop before the beach, a food truck will be the perfect choice.
4. The Best Beaches
It's no secret that people travel from around the world to enjoy Miami's beaches. If you are moving from a place that is nowhere near the ocean, you will love having access to the pristine sand and saltwater all over the Miami coastline.
Surfing, sun bathing, walking along the ocean, or taking your boat out are all perfect ways to enjoy that vacation lifestyle any day of the week.
5. The Healthy Lifestyle
Miami is a city that makes living your healthy lifestyle easier, with luxury gyms throughout the city, health and fitness facilities in most condo buildings, juice bars in every neighborhood, and a climate that makes staying active outside inviting.
According to Business Insider, Miami is the healthiest city in America, with over 80% of the population working out regularly and a culture that promotes wellness. All the vitamin D and ocean air doesn't hurt either! If you are looking for a place to reach your fitness goals, Miami is the ideal hometown for you.
Want to learn more about what it's like to live in Miami? Contact us any time.