4 Things to Consider Before Buying a Luxury Condo
Posted by Juan Iarussi on Friday, August 26, 2022 at 3:35 PM
By Juan Iarussi / August 26, 2022
Comment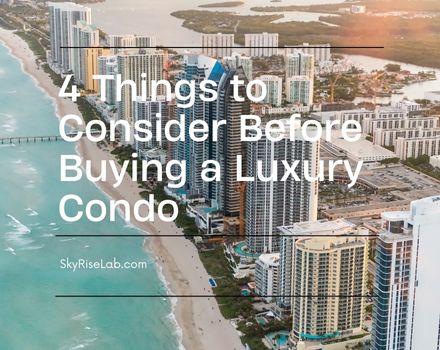 Miami is one of the best places in the world to buy a luxury condo, with a wide variety of choices that feature luxurious amenities, breathtaking views, and perks like yacht docking, car elevators, and more. If you are in the market for a luxury condo in Miami, narrowing down which building is right for you can present a challenge.
To help you decide where you should invest, consider these 4 important factors.
1. Budget
Of course your budget is significant, but we mean more than just shopping for something in your price range. Consider not only how much you plan to invest or how much you are approved to borrow, but the likely ROI on your investment. Investing in luxury real estate presents the opportunity to experience significant equity in the property in a relatively short period of time, so make sure to consider how you can maximize your investment.
Condos also present a unique pricing structure. Unlike a single family home, condos come with unique taxes, condo fees, and a change in utilites and insurance. Before deciding on which condo suits your budget best, be sure you discuss all of these factors with your accountant and mortgage lender.
2. Location
Miami features many diverse neighborhoods, all boasting their own perks. Determine what your priority is. Maybe you are looking for walkability, quick access to the beach, arts & culture, virbant nightlife, a great restaurant scene, or a family friendly community.
Whatever you are looking for, you can find it in Miami. If you aren't sure where to start, give us a call any time to share your must-have list with us and we would love to show you the ideal Miami neighborhood for you.
3. Amenities
As you tour luxury condos in Miami, you will be amazed by the number of resort style amenities that are standard in the city. More than just a community pool and small fitness facility, it is common to find concierge services, valet services, private elevators, in-residence housekeeping, in-residence massages, state of the art health and fitness facilities staffed by experts, and private theaters.
Make a careful note of the amenities in each of the condos you are comparing. There are some condos with amenities perfectly suited to certain lifestyles or households, like yacht owners, luxury vehicle enthusiasts, pet lovers, or young families.
4. Long Term Plans
Investing in a Miami condo means owning a valuable piece of real estate that can continue to positively impact your portfolio for years to come. As you consider which condo to purchase, keep your long term plans in mind.
For example, many of our clients do not plan to call their luxury condo home for more than a few years, expecting to leverage the condo as an income property in the future. If this is a plan you are considering, let us know. With the right planning, you can select from condos that are perfectly designed to accommodate these plans. On the other hand, some condo buildings require the condo to be used as a primary or secondary residence of the owner and prohibit the use of the condo as a rental of any kind.
Whatever your dreams for your Miami condo, we are here to help them come to fruition. Contact us any time to get started.