3 Tips to Adding Value to Your Luxury Condo
Posted by Juan Iarussi on Thursday, May 5, 2022 at 6:35 AM
By Juan Iarussi / May 5, 2022
Comment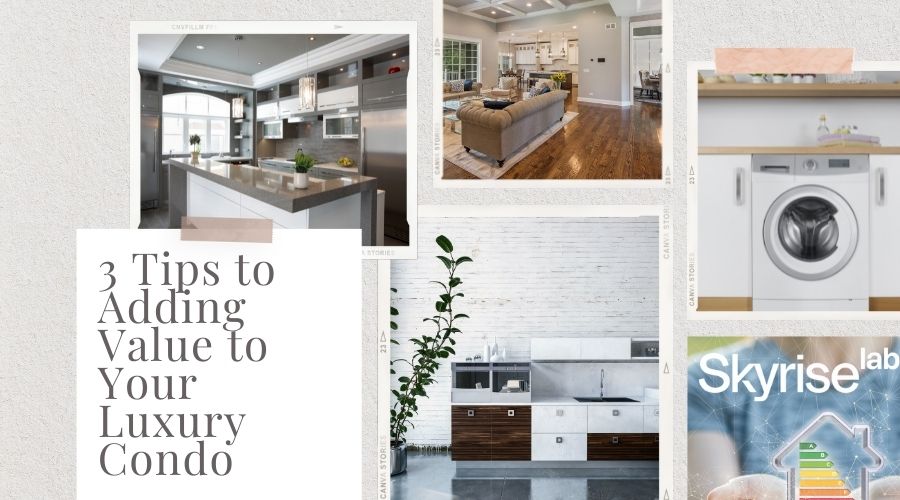 From kitchen and bathroom remodeling to HVAC and appliance replacement, we're always in pursuit of our dream home. But have you ever thought of how to add value to your home? Well, as you transform your home into a peaceful sanctuary, you also want to add to its value. But not every home remodeling project can help you achieve this. When deciding on the project to carry out in your home, it's important to evaluate the overall impact on your property's overall value. This is especially crucial if you have plans to hit the market in the future. But how exactly can you add value to your home?
Start with the Kitchen
Buyers of all kinds have long focused on the kitchen, but it holds particular sway over the newest wave of first-time homeowners. A modern/updated kitchen, topped the list of ideal home features in our survey of millennials, registering as the most important to more than a third of respondents Stainless steel. Though it has been around for decades, this appliance finish conveys a clean, contemporary design, so it will signal "updated" in the mind of the buyer.
Quartz countertops. Engineered from stone chips, resins, and pigments, quartz has started to challenge granite and marble as the go-to material in higher-end kitchens. It shrugged off heat, scratches, cuts, and stains in our tests, and it requires none of the upkeep of comparably priced natural stones.
Cabinets. Updated cabinets, unique design and high-end finishes all add to the luxury and design of a kitchen that you can enjoy for years and buyers will go crazy for.
Floor Plans
Strategically increasing the amount of living space is sure to boost home value. An open floor plan with flexible living space is second only to an updated kitchen. Finishing a basement is the most common way to add usable square footage to a home.
Many younger buyers will envision the additional living spaces as a dedicated office, especially if they work from home. Flex rooms. Also known as double-duty rooms, you'll see flex rooms advertised as an additional living area that can serve a variety of purposes, from a guest bedroom to a game room to an exercise room to a study room for the kids.
Related: Decorating Tips for an Open Floor Plan
Energy Efficiency
Lowering your home's energy costs will save you money for as long as you live there and is expected to be a major selling point down the line. Homeowners who have felt the sting of escalating energy costs tend to be driving the interest.
Beyond a home's cosmetic finishes, it's important to keep the major mechanical systems in working order. Many first-time buyers will have used up much of their savings on the down payment, so they want to know that the heating system, plumbing, and electricity have been recently updated. A new roof will help with the potential of water damage, ice dams, squirrel infestation, and other home disasters that can result from an old roof. More carpets are being replaced with long-wearing hardwood flooring with a durable factory finish. Engineered wood flooring, which uses a thin veneer of real wood or bamboo over structural plywood, tends not to wear as well as the solid stuff, though it has the same look and tends to cost less, making it a good choice if you plan to sell soon.
Whether you are looking to sell your home or not, it is important to pay attention to any house project you have and ensure that the improvements you are making are adding value to the home.
For more tips on remodeling or updating your Miami condo or home to appeal to today's luxury buyers, give us a call. We know the market, we know what's selling and where NOT to waste your money on a renovation.